These models employ a forced-air distribution system to provide both heating and cooling through a conventional ductwork system. These units are ideal for both new and retrofit construction.
Two-stage water-to-air unit
Functions the same as the single stage unit, however it uses a dual capacity compressor that delivers greater efficiency than the single stage unit. This is accomplished by running at 67% capacity to meet most of the heating and cooling loads and only employing 100% run capacity in extreme climate conditions. This facilitates longer low capacity run times, greater efficiency and considerable energy cost savings.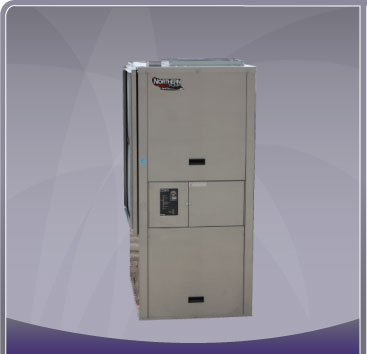 Microprocessor Control
Our Exclusive EZGEO controller is loaded with options and features you won't find on other geothermal heat pump units. The utility load control in the EZGEO system properly manages the cold weather heating mode as well as the air conditioning mode in the summer.
The EZGEO control has four built-in operating modes allowing the installing contractor to quickly configure the control to the specific application that the unit is going to be used for. Once configured, the EZGEO control utilizes a unique supply air temperature and outdoor temperature sensors to provide you with increased comfort over other geothermal brands.
Model sizes available:
Northstar Series – 2 ton – 5 ton
Available Documentation